Books
The Websites listed below are those of ISPE members who have asked or given their approval for their websites to be linked from the ISPE page. Inclusion here does not imply approval or endorsement of the opinions or information presented by any individual member on their pages.
Readers who have concerns about the content of the pages of the websites should direct their comments to the pages author.
ISPE members To have your link added, email your request to the
Webmaster
. Please review the guidelines linked below before submitting your request.
Addition or deletion of links will be at the discretion of webmaster using the general guidelines set forth. In general, the same rules are applied as to material submitted for
Telicom
. Click here to view the
guidelines
.
NOTE: Links will be removed periodically if they are found to be broken. Members who believe that a website has been removed erroneously should contact the webmaster.
Philip Andermann
Anton Anderssen
Andrew Babian
Dr. Julie Baumer
Thomas Baumer
Thomas W. Chittenden
Mike Cooper
Dave Gentile
Kate Jones
Dr. Vernon M. Neppe
Gloria M. Norris
Jakim Pakarinen
Arttu Purmonen
Daniel P. Raymer
Simon Olling Rebsdorf
Gary Sockut
Mark Tabladillo
Joanne Wilshin
David Wolfram
Alexandra Y
Noks Nauta
---
Selected Members Books

Israel
By
Stephen Levin
Book Preview
LEOPARDS IN THE SKY for the Preconscious Mind, 2013 edition
Dr. Greg A. Grove, Diplomate
Kindle, Amazon.com
An Incidental Priest
Rutherford Cardinal Johnson
St. George Seminary Press
FROM THE FOUNTAINHEAD TO THE FUTURE and Other Essays on Art and Excellence (2000)
Alexandra York
Amazon.com
OVER THE YEARS: Poems, Lyrics, Songs, Prose (2006)
Alexandra York
Amazon.com
CROSSPOINTS A Novel of Choice (Kindle and paperback 2014)
Alexandra York
Amazon.com
Soul Celebrations and Spiritual Snacks
Alexandra York
Amazon.com
Aircraft Design: A Conceptual Approach
Daniel P. Raymer
Amazon.com,More about the book
Simplified Aircraft Design for Homebuilders
Daniel P. Raymer
Amazon.com,More about the book
Living in the Future: The Education and Adventures of an Advanced Aircraft Designer
Daniel P. Raymer
Amazon.com,More about the book
The Father, the Son, and the Stars: Bengt Str?mgren and the History of Twentieth Century Astronomy in Denmark and in the USA
Simon Olling Rebsdorf
Amazon.com,More about the book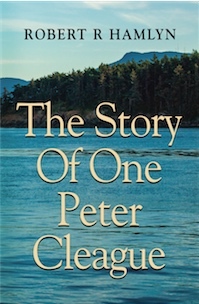 TheStory of One Peter Cleague
Robert Hamlyn
BookLocker